Are ski lessons worth it?
and what should I book for my holiday in Les Gets?
If you're unsure whether to book ski lessons, or what type you need, then hopefully this article will answer your questions.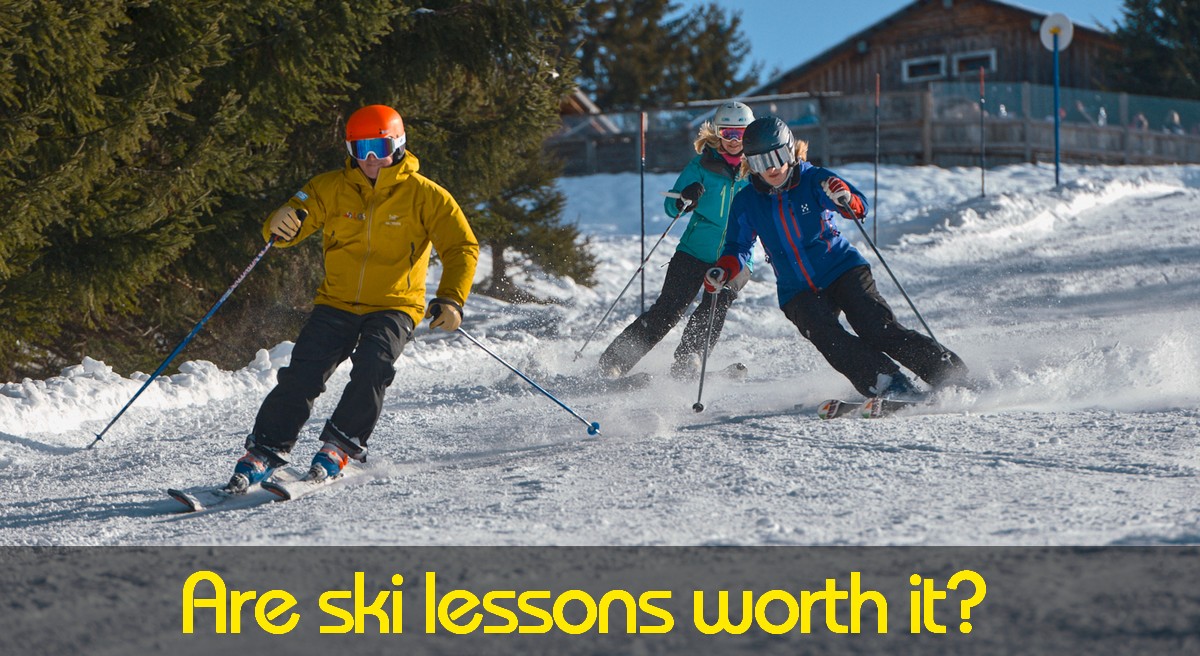 Here are some of the more common reasons people give when they question the benefits of ski lessons and whether they're worth it...
Beginner skiers left to their own devices tend to quickly get frustrated and tired. Bad habits using poor technique usually creep in rapidly, making skiing inefficient and sometimes downright dangerous to you and other slope users.
It's possible to watch 'learn to ski' videos or read books but the route to success will take a lot longer. Watching and copying other skiers can really help you improve but, when you're a beginner skier, how do you know if you're copying good or bad skiing?
A skilled instructor will introduce you to the fundamentals of skiing in a way that makes complete sense to you, in a fun and safe environment. They'll also encourage you to coach yourself and guide you to the best ski slopes for all important practice time.
''My friends or family can teach me"
Likewise, being taught by friends or family can be a recipe for disaster. With the best will in the world, your mates or loved ones will soon get bored and decide to move you on to a more challenging slope. Believe me, I've witnessed it almost every day of my teaching career!
Attempting steeper terrain too soon will risk taking one step forward, two steps backwards (for want of a better analogy!).
You need time to hone and practice newly learnt skills to give them time to become 'hard-wired'.
''I've skied before so don't need lessons''
You don't need to be a beginner to benefit from ski lessons.
Many holiday skiers reach an 'intermediate plateau' where they're happy skiing blue and easy red runs, have their own style but don't always improve from one year to the next. Of course, there's nothing wrong with that unless you're either the type of person who likes to keep improving, or perhaps you feel the spark has disappeared from your skiing.
Even if you're an experienced skier and happy to throw yourself down a black run, you'll be surprised what a difference one or two ski lessons can make. Just a few extra valuable skills, tips or tactics can really help you enjoy more challenging terrain.
''I'm only on holiday for a few days''
Your holiday time is precious and you probably want to make the very best use of your time on the slopes. A few ski lessons can help achieve this and also give you a real sense of purpose to your skiing. A couple of private ski lessons early in your holiday can really make a big difference to the enjoyment of your ski time.
A good
ski instructor
will be able to help you identify some key areas for you to go away and practice. These don't necessarily need to be technique based activities. Some tailored tuition could help you focus on building confidence for example, or give you some tactics for tackling different conditions or a particular ski run.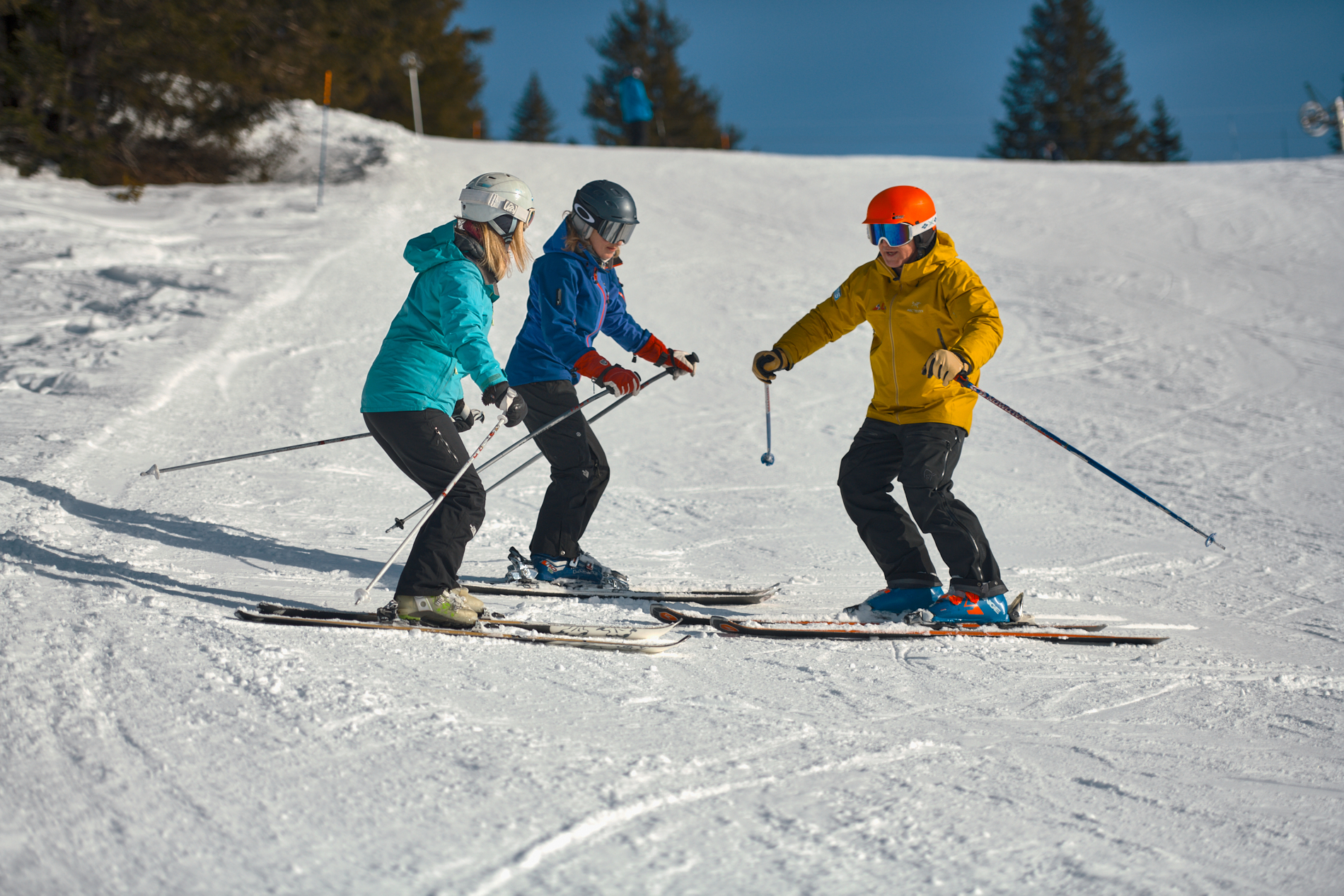 ''I want to ski with my partner or friends''
Skiing can be a really sociable sport - sharing chairlifts, eating in a mountain restaurant, hitting the aprés-ski bar. If you're lucky, you'll even be able to ski down the same slopes, at about the same pace, as your family or friends. BUT (and it is a big BUT), the chances of this last bit are possibly less likely than you think.
As professional ski instructors we meet people, on an almost daily basis, who struggle to keep up with their partner, group or offspring. Everybody improves at different rates. This may be down to levels of fitness, balance, confidence or just downright sporting prowess.
Understanding that you may not be able to ski together as a group is important. It will allow you to remove unhelpful pressure and focus on your own skiing development. Once you've built some good foundations you'll soon be able to cover some ground and ski to that mountain restaurant everyone talks about!
''I've organised kids ski school, but didn't get around to booking lessons for myself''
When it comes to arranging ski holidays, there can be so many different things to think about. Once parents have organised
kids ski school
other ski lessons sometimes slip down the priority list.
Try to find the time to pre-book ski lessons for you.
We talk to lots of disappointed parents who arrive in Les Gets only to find that ski lesson slots for themselves are fully booked.
When you enquire about lessons for your children it's also worth asking the ski school about lessons for yourself. Let them know if you need your sessions to coincide with the children, or if you can be flexible with lesson times. That way the school can give you a lesson schedule for everyone.
''Ski lessons are another added expense"
Skiing holidays generally don't come cheap but also vary massively in price. Likewise, ski lessons costs can differ considerably depending on what you book and which ski school or instructor you choose.
Lessons are an important part of your holiday so, rather than thinking of them as an added expense, try and build them into your holiday planning - in the same way as you make accommodation and travel arrangements.
Group lessons (or ''ski school'') tend to be the least expensive option but don't always end up necessarily being best value for money. Ski school in small groups of 5/6 kids can be a great option for 6 to 13 year olds, but only when the ages and levels within groups are kept as closely matched as possible.
Group lessons for adult beginners can also be really good fun but make sure the maximum class sizes are small. The main downside to adult group lessons is that everyone tends to have different confidence levels and also progress at mixed rates. You may therefore either be the person getting left behind, or the person waiting on everyone else.
Private lessons can either be on a one-to-one basis, or shared with a small number of your own group. The fewer people sharing the sessions, the more bespoke they can be.
Private ski lessons
are a perfect way to receive tailored tuition and generally your progress will be faster than group lessons. One-to-one private tuition is the most expensive but the benefits can be significant.
To find out a little more about the level of service LGS offers, you may find it useful to read some
testimonials
from previous clients.
W
e genuinely want you to have the best experience on snow and
understand you may have many reasons why you're unsure about ski lessons.
We're always happy to help and
advise you
and
look forward to hopefully seeing you on the slopes next winter!


All articles