Learning to ski in Les Gets
I've never been skiing before, what can I expect?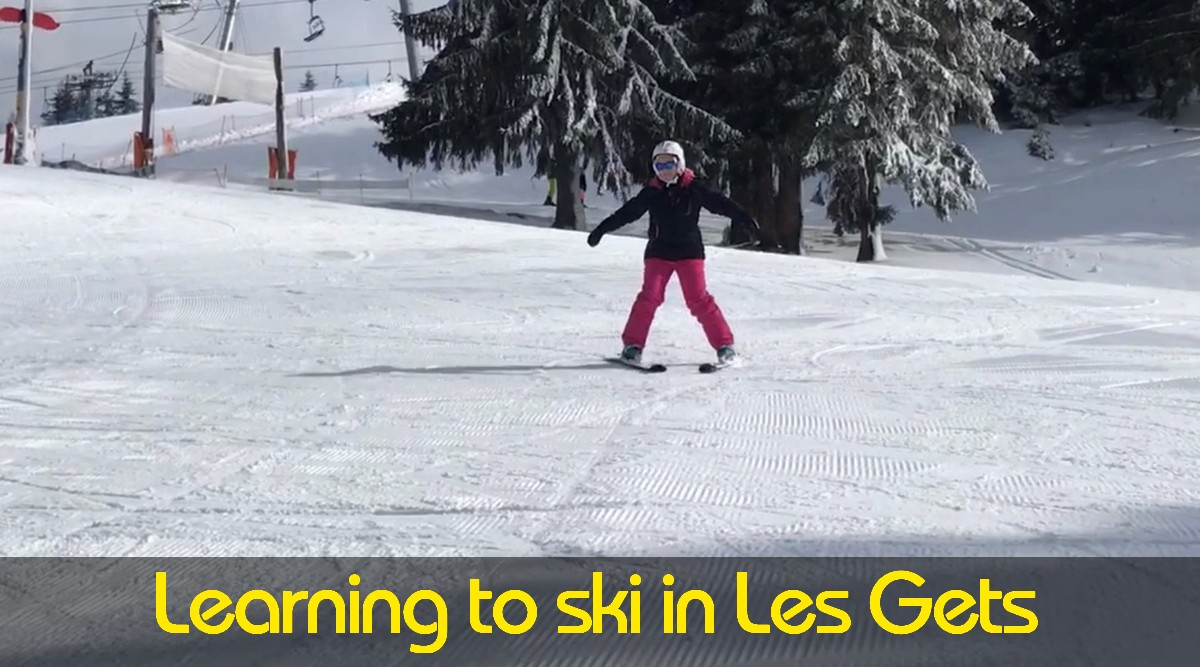 Learning to ski - what's all the hype about?
You may have been talked into skiing for the first time by a friend or family member, or perhaps you just want to try something new and different…but what's skiing really all about, will you like it and what should you think about before you hit the slopes?
Be open-minded
If you're new to skiing, it's sometimes difficult to imagine what it'll be like but that's OK. Millions of people love this amazing sport and you'll hopefully end up being one of them!
Our advice is to stay completely open-minded about what you're going to experience. You'll experience many new sensations when learning to ski, which require learning completely new skills.
Skiing is an open-skilled sport involving many changeable and sometimes unpredictable elements. Learning to enjoy the sensation of sliding is at the core of beginning your skiing journey.
Be prepared
Undoubtedly, being physically fit will help keep you safe from injury and perhaps give you the stamina to spend longer on the slopes each day.
Having a good base level of fitness is great, but it doesn't necessarily mean that you're more likely to pick up skiing quickly.
Think about the kind of activities you do – do they require open, or closed skills – do you do sports where things are constantly changing and influencing how you react, or do you spend time in a gym and maybe only using closed skills?
Strength, agility and stamina are all important. Perhaps more important when it comes to skiing are activities which challenge your dynamic balance, such as mountain biking, paddleboarding and trail running.
Choose the right resort
Some ski resorts are more suitable than others for learning to ski. You'll need dedicated beginner slopes, green runs and perhaps some easy blue slopes on your first ski trip.
Look at the grading of the ski runs and how easily accessible they are from where you'll be staying.
Beginner skiing in Les Gets for example is easily reached from the village by catching the Chavannes Telecabine (which you don't need any previous experience to use). The main beginner area is at the top of the lift, as are some easy green and blue slopes.
If you have a choice, learn to ski outside school holidays
If you're not fixed to the main school holidays (Christmas, New Year, Feb half-term, Easter), which tend to be busier times on the slopes, go for lower season periods.
Pre-Christmas, January, early February and March can be fantastic for learning to ski on quieter pistes.
Accommodation and flights are generally cheaper and you're more likely to find more short-break holiday options available.
Book ski lessons in advance
As a beginner skier, you'll need ski lessons. Not just to make the experience enjoyable but also to help keep you free from injury. Don't be persuaded to be taught by your mates or partner as it will likely end in tears…believe me, we've seen it!
You'll get
so much more
out of your ski holiday with some ski lessons in Les Gets.
Equipment and clothing choices
Don't wear too many layers for learning to ski! As ski instructors in Les Gets, we regularly see beginner skiers overheating due to wearing too many clothes.
Remember, you'll be moving around to stay warm. Even if the weather's bad, you'll initially be staying on the lower slopes which tend to be more sheltered from the wind and cold.
Shell jackets are a good choice as you then have the flexibility of being able to wear a different number of insulative layers underneath. As a rough guide, on top you will need a base layer (thermal), a mid-layer (fleece or lightweight down jacket) and a shell jacket. If your ski jacket is insulated you may only need a base layer underneath. Like wise with your lower half, lightweight thermals under shell or lightly insulated ski pants.
Ski socks which come higher than ski boots are important and when you're getting dressed, try to keep just one layer of sock inside the boots to avoid pressure points. Making sure your
ski boots fit properly
is vital! A good ski rental shop will measure your feet and size your ski boots accordingly. At first you may think they're too small, but it's important to have a snug fit. Your ski boot should effectively become part of your lower leg/foot so there should be minimal movement inside the boot.
Tell the ski shop what level you are so they can match the boots and skis to your level. For beginner skiers, the equipment tends to have a softer flex to help you balance more easily.
Aprés-ski It's part of your ski holiday right!?
You'll probably be on a high after your experiences on the slope, but (believe us!) try not to get too carried away with the booze consumption. Make sure you drink plenty of water to hydrate and keep a clear head to enjoy the next day on the slopes!
All articles